YOUR ONLINE PROFESSIONAL DEVELOPMENT CREDIT SPECIALISTS
Why Masterworks?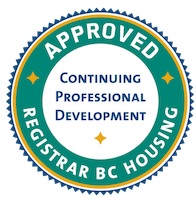 Pre-Approved by BC Housing
Staying in good standing with BC Housing means knocking out those required Continuing Professional Development (CPD) credits. 
We get it — your calendar is packed and finding the time for extra courses can be a hassle.
Good news: our training programs are Pre-Approved by BC Housing for Continuing Education (CE) credits, and they're flexible enough to fit into your busy life.
Key Benefits at a Glance
Pre-Approved: Our courses meet stringent BC Housing standards.
24/7 Access: Learn anytime, anywhere (internet required).
Self-Paced: Learn and progress at your own speed.
Cost-Effective: Quality courses at an affordable price.
No Exams: Certificate of Completion upon finishing the course.
Added Resources: Our business courses include workbooks.
Extensive Course Catalog
We understand that a well-rounded skill set is vital for your business's prosperity. You have the flexibility to select a combination of business and construction trade courses that best align with your objectives.
With a catalog of over 70 courses at your disposal, you have many options to explore and enrich your knowledge and skills.
Make the most of our comprehensive course offerings to empower your business for success.
About Masterworks
Your success is important to us and we put the resources you need to succeed at your fingertips, when you need them!
At MasterWorks Coaching Group our mission is to empower professionals through comprehensive, technology-driven education, that is complimented by unparalleled customer service. 
Since 2016, we've been committed to delivering high-impact online training programs that enhance skill sets and drive professional advancement. 
Our Learning Management System (LMS) allows for on-demand, self-paced learning, but technology is merely a tool; our ultimate measure of success is your complete satisfaction.
What Home Builders Are Saying
I highly recommend Masterwork's Coaching Group online courses!

Trying to find good quality courses is important for me when doing my cpd courses. I want to make sure that I am getting courses that are informative, easy to use and have good educational content where I can learn new procedures and ways of doing business.

Masterworks' courses provide this and more for me. I also appreciate the downloadable workbooks they provide so I can reference back to the course anytime in the future.

I highly recommend Masterworks Coaching Group online courses.

Garry D.
Thanks for the great experience and service!

Our Overall Experience: absolutely fantastic. Mike and his staff have been extremely helpful.

Ease of Use: by far one of the best programs available. We find the programs to be informative and straight forward.

Quality of Content: we find the content to be very relevant to our industry and enjoy the selection of courses.

We would give Mike and his team a solid 10 out of 10 rating.

David W.
Discovered new ways to work with my crew, clients and my market focus!

Masterworks has for the last few years been a great resource for my Continued Professional Development courses.

With a broad range of online course subjects thoughtfully put together in easy to learn format that broadens my business knowledge so I can discover new ways to work with my crew, clients, and my market focus.

Darren S.